Cooking Games for Kids
Cooking Games for Kids is a great way to have fun with them We all want our kids to have fun and we have to teach them to cook at some point in their lives, and you will spend time together bonding as a family.
Whether you have baking days, where you bake and decorate cupcakes, play educational games, allow your child to play Free Online Cooking Games or play together on the new trendy games for kids on the Wii and other gaming consoles.
As long as you remember it's all about Fun It doesn't matter if there is only 2 of you or a whole party.
Playing Cooking Games doesn't mean that every time, you have to cook. Young children love to pretend to cook like you, at a very young age kids are copying parents and grandparents.
So buying your child a Kitchen Activity Play Set
will get their imagination working. They may not be old enough to cook with you in the kitchen just yet but they'll have fun anyway.
There are also cooking games for kids on the computer, why you can buy some software for your child, for example they can create a Super Hero that they'll need to feed him/her a balanced diet, this will give the character enough strength to help the villagers.
By playing these sort of games your kids will learn about healthy eating and the importance of a balanced diet.
---
Online Cooking Games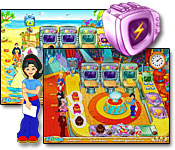 Cake Mania is about Jill and her Grandparents Bakery, business is slow and you have to help Jill bake and decorate Cakes to sell to the villagers and depending on the month , the Easter Bunny and Cupid.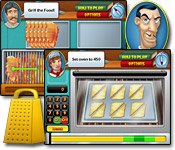 Cooking Academy Learn how to slice, chop, fry and knead. At the Cooking Academy you'll follow instructions and prepare ingredients to make different dishes, you will be given a grade at the end, the faster you do it the more points you'll get and the better grade.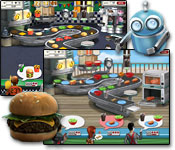 Burger Shop 2 This is a great game, you have to build the burgers and serve the waiting customers as quick as you can, as you move up the levels,you have to cook fries, fill the soda glasses and the faster the better.
---
Cooking Video Games & Offline Cooking Games
These cooking games for kids are ideal for all the family to play together, generally they are not Free as you may have guessed but you'll have hours of fun, they can be played on your Nintendo DS, Wii, computers and of course Board games are available to play at the dinner table. You may be able to find some games online that you will be able to print out to play offline for free.
Cooking SIM 2 Pack: Go Go Gourmet + Chef of the Year
This hidden object, Time Management Game will have you preparing mouth watering international recipes 122 of them. You will cook in 7 different countries and help Ginger reach stardom by searching for ingredients.
What's Cooking? with Jamie Oliver
Follow and recreate Jamie Oliver's Recipes, you will cook against the clock in a number of challenges where you will chop, stir, and whisk your way to be coming a master chef. In our house this has been rated one of the best cooking games for kids.
Hot Dish (PC)
There are 80 dishes for you to prepare in Mom & Pop's Italian Restaurant, a 5 Star French Restaurant or an Upscale Asian Fusion Restaurant. You'll get help from 3 Master Chefs but you'll need to watch out for the Health Inspector.
Fast Food Panic (Wii)
Run a Fast Food Restaurant and play against your family and friends in this fast paced game, serve the customers before the time runs out.
Orchard Toys Crazy Chefs
Join the chefs kitchen and collect everything you need to make a meal. Then grab your plate and wait for the dish to cook you will be the first to finish. This game is for 2-4 players and for children aged 3 to 7 yrs. A Great Cooking Game for Kids to learn about making a meal.

Return from Cooking Games for Kids to Cooking Games